It's amazing how doubling your square footage can make you feel like you're freaking rich. I forgot what space feels like and now I feel like I have so much of it! And I swear to god, my house has never been cleaner. Really it's just cuz I have more floor space to spread it over. It's okay, cleaning the house is part of my job right? Mmmmmkay, when I had an office job I'll admit I slacked on certain aspects of that too :)
So, without further ado, here are the pictures that you all (okay, only Jess) have been bugging me about. I will try to follow the order of the last posts but we've changed the layout so it's a bit different.
Coming down the stairs. We've got actual linolium on them. It's a christmas miracle.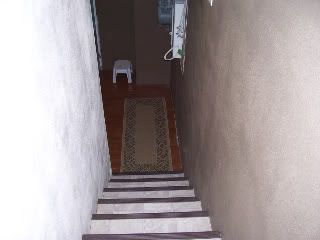 Here is the bathroom, such a huge change. I mean, you don't have to walk through the shower to get to the toilet and there's a sink in there too now.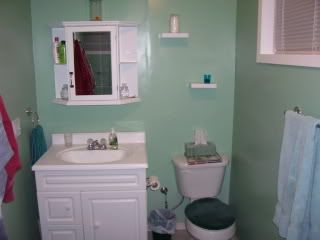 Here is where I would post a pic of the storage room, but not alot changed in there besides painting it white and pouring cement so that it's even. Plus I forgot to download the pic into photobucket and doing it now is just too much work.
Okay here is the view from the hallway at the bottom of the stairs looking into the family room. I love coming down into my basement now. The next one is a different angle of the room, looking into the hallway. In that one you can see my laundry closet.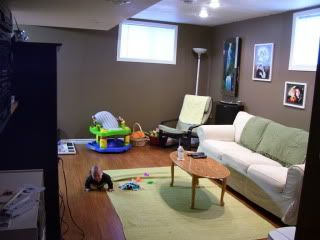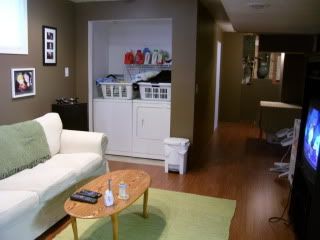 This next one is of the office/craft area. Pre-reno, there was a big wall here and it was a bedroom. In this photo you can see just to the left that there is a door. That used to lead to where the kitchen was, and the kitchen was accessed by another door that we walled over. Anyway, if that made any sense at all, the old kitchen is now going to be Liam's room. Although it's not finished yet.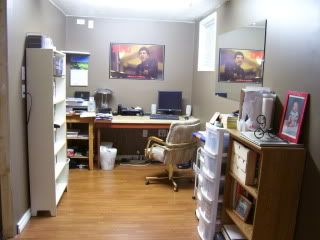 And finally this is looking into the family room from the office.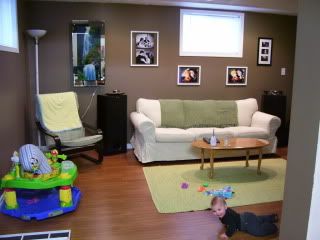 Told ya you wouldn't recognize it!! There are still a couple very minor things that need to be done like finishing with the baseboards, and doing the framing for the doors to the storage room and my laundry closet, but it's LIVABLE. And I LOVE IT.