It has been a loooong road, but by this time tomorrow we should be relaxing in our brand freaking new basement! Let me tell you the story.
A little over a year ago we found out we were expecting. No suprise to me there, we were trying after all, but for some reason Jeff didn't think he could have kids. I think he was humoring me with the 'trying' (jokes on him right?). So once I got over my excitement and Jeff recovered from the shock, reality kicked in. Our home is cozy. Read, small. At just 1000 sq ft, it has 2 bedrooms on the main floor along with a decent sized living room and kitchen, and a bathroom. The basement was a train wreck. TRAIN WRECK. I'm going to show photo's, and beware there are lots because it's just all so spectacularily fugly that I just couldn't pick one.
Okay, this is the view coming down the stairs.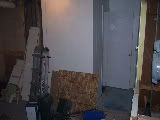 This is looking into what was our laundry/furnace/storage room.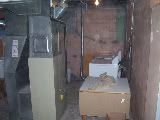 When you look out of the laundry room toward where the bathroom is. The door is tucked around the corner but you can see it from the stairs shot.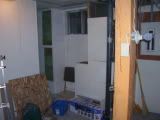 And THIS is our downstairs bathroom. And yes we did actually have to use it while we were renovating our upstairs bath. Ughh.
And now looking into our family room.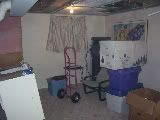 This next one is looking toward where we used to have the office area set up. Behind that wall was a bedroom that was used as storage, and a kitchen from when previous owners actually rented the basement out. Can you imagine???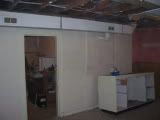 With the impending arrival of Nicholas, and with only 2 bedrooms upstairs, Jeff decided to renovate the basement so that we could move Liam down there. There was no way in hell that we would have subjected him to those living conditions. So everything got torn down, right to the concrete, and Jeff has been single handedly building out our new basement. He had one friend come over to help haul some garbage out, and another came over to help him install the new hot water tank. Other than that, it's ALL HIM. And keep in mind the only thing he has ANY experience in is electrical work. The rest (heating and ductwork, plumbing, framing, drywalling, etc.) he learned how to do from the internet, asking people questions and his amazing how-to book that we got as a wedding present.
Needless to say, I'm pretty damn proud of him. There are quite literally countless drops of blood, sweat, and tears over this basement. We have made it through a whole year of cluttered upheaval, and come out stronger than ever on the other side. Let me tell ya, it was tougher than tough. I wanted to smack some sense into him on more than one occassion, but somehow I kept it together. And me with my prego hormones running all over the place!
I'm going to do another post with pics of the completed space later on, hopefully once things are a little more set up. You wouldn't even recognize it as the same house!