So, a friend of mine has been bugging me for years to try scrapbooking, ever since she went on maternity leave with her first baby. He's now 3, so that should tell you something about my super amazing procrastination skillz. Anyway, now that I am on mat leave myself and my baby has finally figured out that, wow wonder of wonders, he doesn't need me to hold him 24/7, I have a bit of spare time on my hands. (There were a lot of comma's in that sentance-you'll find that I'm the comma queen).
So, in light of my crossover to the dark side, er, I mean scrapbooking side, I went with some friends to a late night crop on Saturday. Guys, these are great! You get to go to a craft store when it's CLOSED. You don't have to worry about other customers being all up in your face and shoving past you, you can browse all you want, and you don't have to pay till the end of the night! Ahhhhh, it was so hard for me to resist temptation. See, since I'm pretty new to this I really don't have all that much in the way of
embellishments
(that is cool person talk for cute little decorations that go on your page
)
and so I pretty much needed everything in the store. Seriously. I managed to restrain myself and only spent $20. But when you add that to the money I spent at Michaels on paper and at the dollar store on
embellishments,
well lets just say that it's a good thing my husband is artistic and actually encourages this kind of hobby.
So I'm pretty proud of what I did, I think they're great for a first effort! Here's the first one I did. The top pic is from the night that we got engaged, and the bottom one is from some random night out.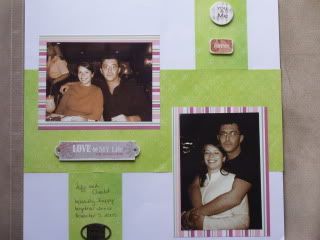 This second one is of my boys. I bought this stamp alphabet on sale and apparently the reason I got such a good deal on it was because the P is backwards. Stupid dumb stamp makers.
This last one is my favorite one that I did. It's got my favorite pics of the boys together. I'm so glad that, at least for now, they get along so well! And I have proof! Because once Nicky becomes mobile and starts getting into Liam's stuff....well let's just say that I may have to get my license so that I can drive to the pub and drown my sorrows while Jeff plays referee. Gaaaaad, that's gonna be scary.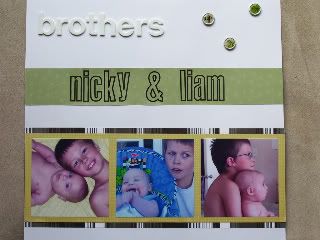 You know what else is really cool about scrapbooking? No kids for 7 whole hours! When you stay at home with them all day every day 60 minutes an hour 24 hours a day 7 days a week - insert gasping breath here - it's pretty much heaven. It's even hard to dredge up sympathy for the husband that is stuck at home with the screaming infant. Although I did manage a couple drops. I'm not THAT heartless...
Rock on --> I really want to get one of those little siggy icon thingys for my page...does anybody know where I need to go to find them?