In my 'about me' it says that I'm a scrapbooker. And it's true, I love to do it. My mojo has taken a vacation lately though, and while I have tried to force myself to work through it I really haven't been satisfied with much that I've turned out in the past 6 months or so.
It started to come back when I made some mini albums for my mom, mother in law, and sister. I got really exited to share them, they turned out SO nicely. I'll share the pictures from that little project another day since there's lots of 'em.
Then I sat down with a picture of our wedding. I don't get to use pink very often, being the mother of all boys, so I went a little crazy.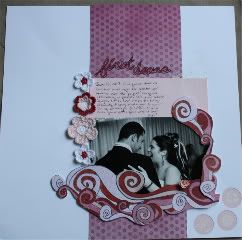 And then last night I was looking at a challenge for Mission Create and inspiration struck again. I used 4 out of the 5 prompts only because I don't have any bingo cards. I sanded the photo on the right, made a couple flowers out of tissue paper (2 birds with 1 stone baby!) and stamped it up with ink. This is one of my favorite LO's to date!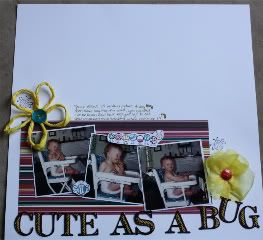 Whenever I make a page that has a lot of white space Jeff makes sure to comment on it, asking if I'm "done". For a long time it made me think that maybe I needed to do more to my pages and so I would struggle and try to fill it up. But it's just not me, not always. And another scrapper finally put into words what I never could: white space is itself a design element. So there Jeff!
And finally, I am also working on Josh's birth announcement. It's done in crosstitch and will probably take me a year but it's super cute and I'm very exited to finally start it.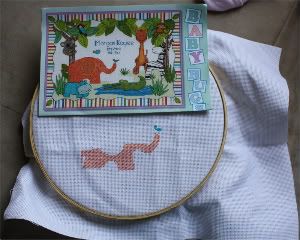 So there's where I am with stuff. I'm glad that my energy levels are picking up so I can spend more time in my craft room!